Happy Eastern Evrbdy!!!!!
Another Mystery Pic by MGsings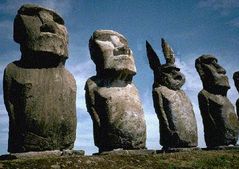 The origin of the Easter Bunny?
Who knows...
These serious stone guys are called Moais. They were raised by natives centuries ago in Easter Island, some say as guardians of the seas. Easter Island is isolated in the middle of the Pacific Ocean, halfway between South America and Oceania. That means, literally, thousand and thousand of miles away from anything resembling a continent... How could a bunny get there?... Not the slightest idea.
By the way, Easter Island natives call their land Tepito Te Henua. That is: "The Navel of the World".
Happy Easter to all of you...
Hope you eat so much chocolate as to roll over the floor!!!!